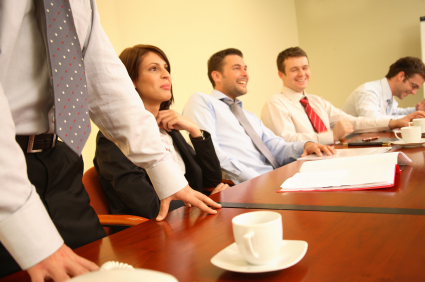 One of my favorite interviews at our recent Mega Camp was Gary's chat with Jim and Jeff Reitzel of Kitchener, Ontario. Among the Reitzels' best business-building tools is holding investor and first-time home buyer seminars—a lead generation strategy that helped them do more than 120 transactions and over $67 million in business in 2009. And they are on pace to have a much better 2010.
So what are the keys to success?
1. Be Predictably Consistent – More than anything, the Reitzels attribute their success to predictability and consistency. For example, they hold their monthly investor seminar at the same place, at the same time on the third Tuesday of each month. After a while, interested buyers don't need an invitation or directions. They just show up. It's like the old Batman show: "Tune in tomorrow—same Bat time, same Bat channel!"
2. Persistence Pays Off – The Reitzels count on word of mouth to market their seminars. They invite every client. They invite fellow agents to bring guests. They invite just about anyone they meet. Over time, this simple message of "every third Tuesday" has sunk in, and the numbers have grown from the early days when Jeff might have gotten the opportunity to practice the ninety-minute presentation for Jim alone, to today when their investor seminars average 80 to 120 attendees!
The repetition of our marketing for these events combined with the word of mouth they can generate can be quite powerful. Jeff shared that one investor bought 22 townhomes on their second meeting. The investor had never actually made it to one of the seminars but, because Jeff was always holding them, he felt like Jeff must be the expert.
3. Big Audiences Are Great, Motivated Audiences Will Do – Even when only a handful show up, it can still be a success. Jim shared that this summer he taught a first-time home buyer seminar and only three people showed up. "I thought, 'Oh great!' but you know, one of those three became a buyer!" Similarly, you don't have to start with a 100-seat training room. A coffee shop will do. When my wife Wendy started her business, she used
Facebook to send monthly invites to talk wealth building through real estate over a morning coffee at "Millionaire Mocha$." Some weeks, she has a crowded table; others, she has a hot cup of joe and works her database. Regardless of the attendance, in just a year the messaging has sunk in—everyone now knows she's in real estate, and sometimes a friend of a friend will show up who Wendy didn't personally invite.
4. Build on the Success of Others –Jeff began teaching investor seminars in 2003. He created his own material based on his investing experience. After seeing an hour long presentation on The Millionaire Real Estate Investor, he adopted The Millionaire Real Estate Investor Client Workshop and made it his own. When the Your First Home Seminar became available, he adopted it as well. You don't have to reinvent the wheel. Adopting an existing presentation is much easier than creating your own from scratch. The same for marketing materials like the brand new 7 Reasons Why Now is a Great Time to Buy a Home.
Similarly, Jeff coached another agent to simply tell Jeff's investing stories since he didn't have any of his own. It worked. For the record, The Millionaire Real Estate Investor has more than investor profiles at the back of the book, and Your First Home tells a different tale of first time home buying between every chapter.
5. Follow-Up Matters – Don't get people excited and just cut them loose. In 60 to 90 minutes, you likely won't get far beyond the basics which means motivated buyers are likely to have questions. Get them on the phone and set a time for a personal consultation. When Gary taught seminars, he would stand by the exit with his calendar setting appointments as attendees left the room. That's following up for the appointment!
The last time the National Association of Realtors posted their numbers, 38% of buyers were first-time home buyers and 19% were investors. By the way, that's more than half the market. Astonishingly, going back to October 2008, these two groups average 59% of the market! Don't miss out. Start using seminars to market yourself as the expert.