By Laura Price, Marketing and Communications Specialist, Keller Williams Realty International
The essence of a purple cow is that it must be remarkable. Something remarkable is worth talking about. Worth noticing. Exceptional. New. Interesting. It's a Purple Cow. Boring stuff is invisible. It's a brown cow.
To recap everything learned at Mega Technology yesterday would take many more posts and a whole lot of lattes. Something that stood out to me, however, was that every person who took the stage has done two things which, over time, have directly impacted the trajectory of their real estate careers (some of which have boomed in just five years!).
1. They have found their "Purple Cow" and are constantly coming up with new ones to innovate and adapt their traditional marketing tactics to the ever-changing global marketplace.

2. They execute. To quote Art Williams and Nike … they just "do it."
Many of you may have read Purple Cow by marketing genius Seth Godin, but for those of you who haven't, the book teaches us that in today's business world (and real estate is a business) safe is risky, very good is bad and you are either remarkable or invisible.
For the vast majority of real estate professionals, the Web strategies implemented by the panelists on stage seem counterintuitive, exciting and in some cases a little unbelievable (You mean I should ask another real estate professional to borrow their listings and market them for them? Yes, yes you should. And then you should go ask a builder if you can market their homes too!)
To quote Godin, "Cows, after you've seen one or two or ten, are boring. Every day, consumers come face-to-face with a lot of boring stuff – a lot of brown cows-but you can bet they won't forget a Purple Cow."
The Amazing Home Race put on by mega producer, Ben Kinney last week, which will happen in Matt Fettick's,another mega mega producer, community in October is such a purple cow. They figured out how to take a "brown cow" – open houses – and make it spectacular using technology.
More specifically they used Google's free service SVNGR - a location-based mobile game – to create a remarkably fun event for members of their community. With a good amount of planning, a budget supported by outside vendor relationships (not directly related to real estate), smart marketing and a prize of $10,000, Ben was able to put on a hugely successful event.
The ROI? In one morning, 600 people turned out for Ben Kinney's Amazing Home Race, all wearing Red Home4Investment t-shirts, all driving to the team's listings in Bellingham, Wash. They generated 400 new contacts for their database and gave away $10,000 to one very happy couple – wearing a Ben Kinney Amazing Race t-shirt. Are you taking notes yet?!

This example can prove hard for some real estate agents who may not have Ben or Matt's kind of budget, but to quote Godin, "The Purple Cow is not a cheap shortcut. It is, however, your best (perhaps only) strategy for growth."
Another strategy that struck me as solid gold – and is a heck of a lot less expensive – is video. Now, at first glance video doesn't seem like it could be a purple cow, right? If 48 hours of video are uploaded to YouTube every minute, how do you stand out?
By creating hyper-local, hyper-relevant video. Ken Renner, an agent at the Keller Williams Lake Travis market center did just that by creating a series of videos for Avery Ranch, one of the more popular areas to buy real estate in Austin, Texas right now. Upon searching for Avery Ranch on YouTube, Ken's video, named no doubt based on his long-tail keyword research, comes up immediately.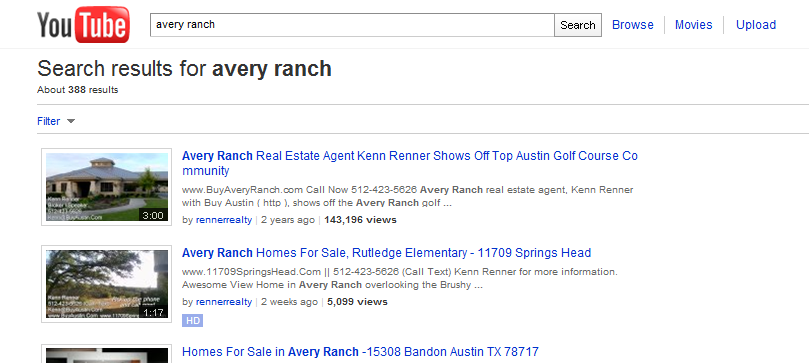 What's more compelling is that it has 143,196 views. Yes, you read right, 143,196 views. I don't know about you, but I don't know too many real estate videos that have that many views. Purple Cow? You better believe it. Ken found his market niche first and then made a remarkable product to satisfy that audience's desire to see the golf courses they will be living and playing on when they buy a home. How can you replicate this strategy in your market?
Here's the punch line. When faced with a market where no one is listening, the real estate professionals who have the guts to go out and create something remarkable – to launch a product or promotional offering, a service, or a set of standards – that somehow gets the attention of the right people at the right time will win more business. Ben Kinney, Matt Fettick and Ken Renner are all willing to take that chance, are you?