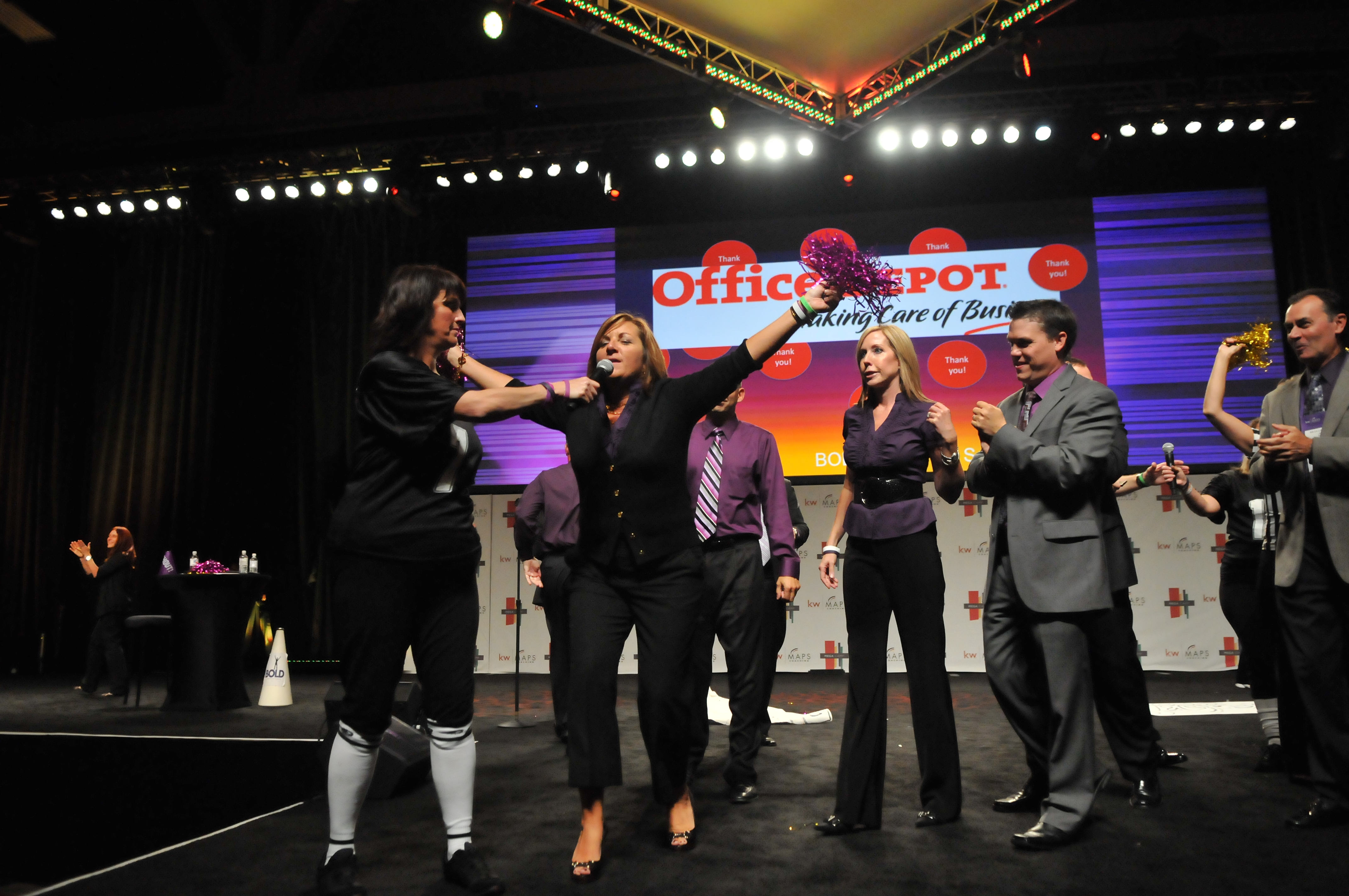 A sea of purple swarmed the hall Monday evening for the BOLD Recharge Tailgate party. Excited revelers noshed on pretzels, chips, and popcorn as their BOLD coaches energized the room with footballs and whistles.
The Recharge began with a vivid demonstration of the importance of removing limiting beliefs. Like Houdini himself, one of the BOLD Coaches broke out of a straight jacket while performing to the Village People's song, Y.M.C.A.
The focus of the recharge was Dianna Kokoszka's 7 Secrets of Personal Power for Success.
1. All responsibility for success rests squarely on your shoulders. If you change nothing, then nothing will change.
2. The power of letting go. Dianna explained that we reap what we sew. When we plant positive thoughts and actions, we grow positive results, and vice versa. She reminded everyone to, "get rid of your drunk monkey!" and affirmed, "Change your thinking, and change your world."
3. The power of consciousness, and the power of the brain. She highlighted the three aspects of consciousness: perception, imagination, and expectation, and suggested that we increase our imaginations. In fact, she said, "the first step to better times is to imagine better times!"
4. The power of energy and the power of BETS: Beliefs + Emotions + Thoughts = Success.
5. The power of intention reminds us to trust that our goals will be achieved. Don't be vague about goals – let everyone know!
6. The power of choice. We make a choice about what happens to us through our attitudes and the actions we take.
7. The power of love. Dianna closed her powerful message by sharing, "Without the power of self-love, you can only live in fear and trepidation" and offering this affirmation, "I was born to learn to love myself and to share that love with others around me. I am BOLD, and so are you!"