Do you have a Green Thumb? Is your market center working toward a completely paperless office? Maybe you're an expert on green living for your community and your clients.
Monday, Nov. 14 through Friday Nov. 18, Keller Williams Realty is excited to announce that we'll be celebrating our company's growing environmental initiatives and the release of KW's latest guidebook Green Your Home during "Green Week!"
Keller Williams Associates: we want you to help us celebrate our company's focus on building a healthy, money-smart, and sustainable life worth living!
Here's how you can participate:
1. Decorate your Facebook and Twitter Avatar with a Green Week Twibbon!
2. Dial into Webinars focusing on green subject matter including: Building a Green Lead Generation System, Getting Green with Google and myTransactions Advanced. Register here.

3. Post your green tips and get a few extras on the Green Your Home Facebook Page. These will contain awesome tips you can share with your sphere – that's a week's worth of Facebook posts already done for you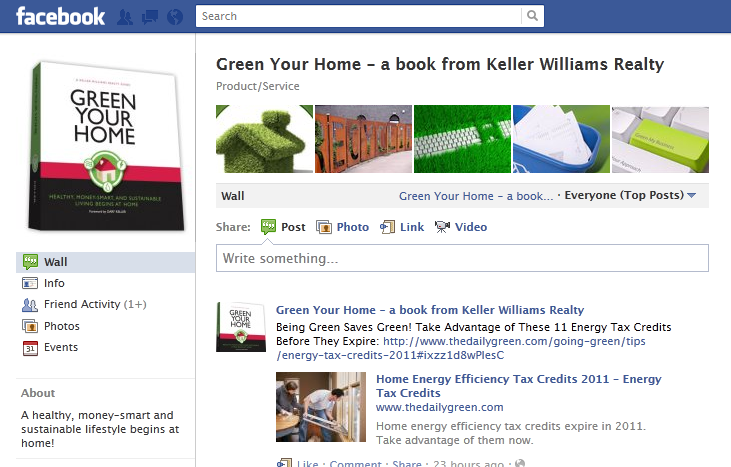 4. Come back HERE (the KW Blog) for more great stories on creating an eco-friendly life for yourself, your clients or to see what Green Week is all about!

Plus – we'll be sharing an exclusive excerpt from the Green Your Home guidebook and posting awesome articles focused on generating leads by establishing yourself as a green expert in your local market. If you're not 100 percent convinced of the green movement, that's okay! This is merely an opportunity for you to educate yourself so when you have a client with specific green needs, you can be their source of information!
About Green Week: Since our founding, it has been our company's stated mission to build careers worth having, businesses worth owning and lives worth living. We realize now, more than ever, that a life worth living is one that is healthy, money-smart, and sustainable. And over the past three years we have been actively working to create a platform for our associates to leverage the green movement in their businesses.
We look forward to celebrating Green Week with you!