It was a star-studded event unlike any in the past during the Awards Ceremony on Day four of Family Reunion. One-by-one, top producing Keller Williams associates were welcomed to the stage by Mo Anderson, Vice-Chairman of the Board, Mark Willis, CEO, Mary Tennant, President and COO to be honored for their triumphs in 2011.
Recognized for their leadership and belief in the Keller Williams models, Dottie Bowe, Operating Principal & Leanne Barschdorf Nichols, team leader of the Portland (Maine) market center were honored with the prestigious Entrepreneur of the Year Award. "What makes them successful is the want and the desire to be the best," said Willis from the podium. "They believe in the KW model and haven't veered from it. Both are first and foremost moms. They are real. No pretense. What you see is what you get. They are loving wives. And they work from a motto of the more you give, the more you get. They have certainly given everything they have. And, as a result, they have built the second most profitable market center in the entire KW system, in Portland, Maine."
The annual Mo Anderson Award of Excellence was awarded to Gene Arant, associate with the Lake Travis (Texas) market center for his ongoing commitment to Keller Williams Realty's education, training and coaching.
Congratulations to all the winners and to every associate for another incredibly successful year!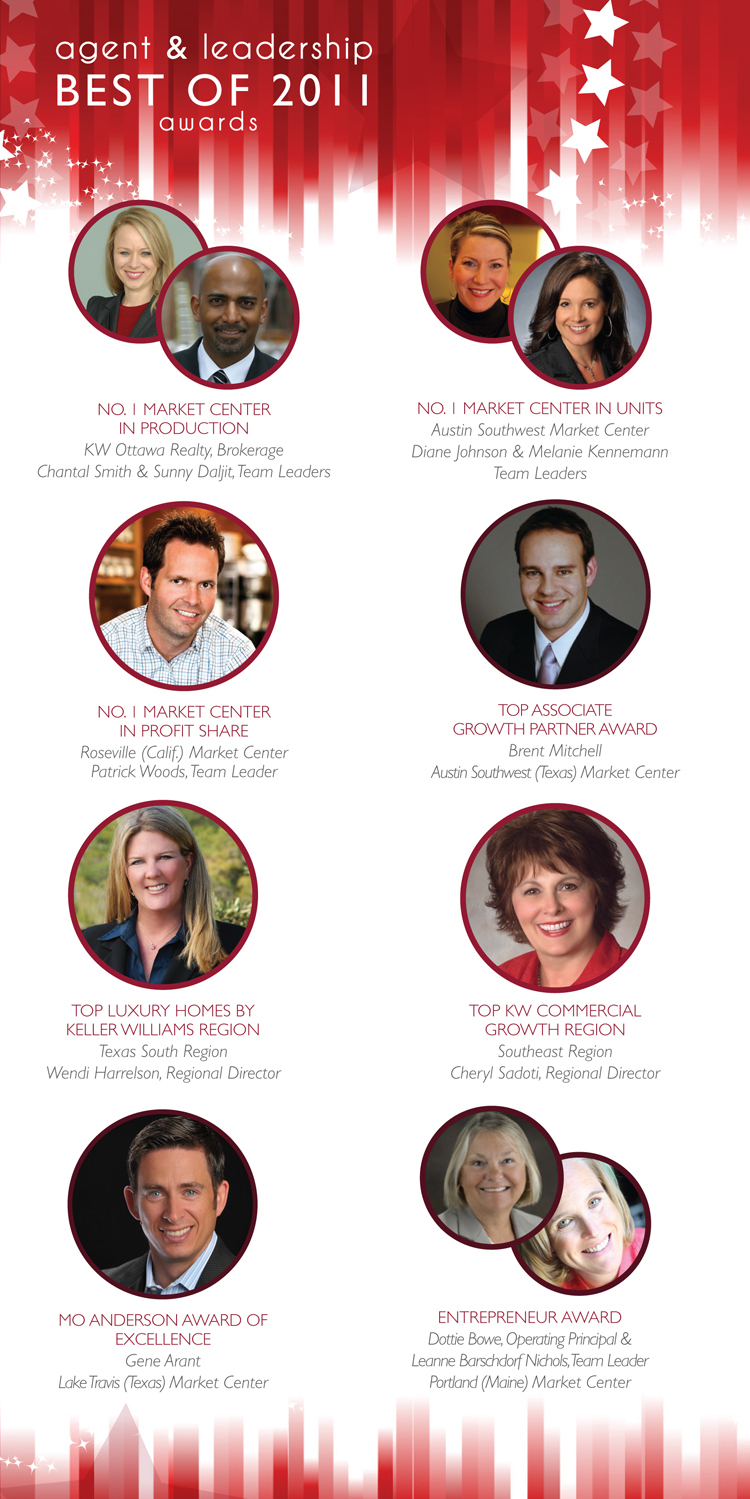 More Awards on the other side!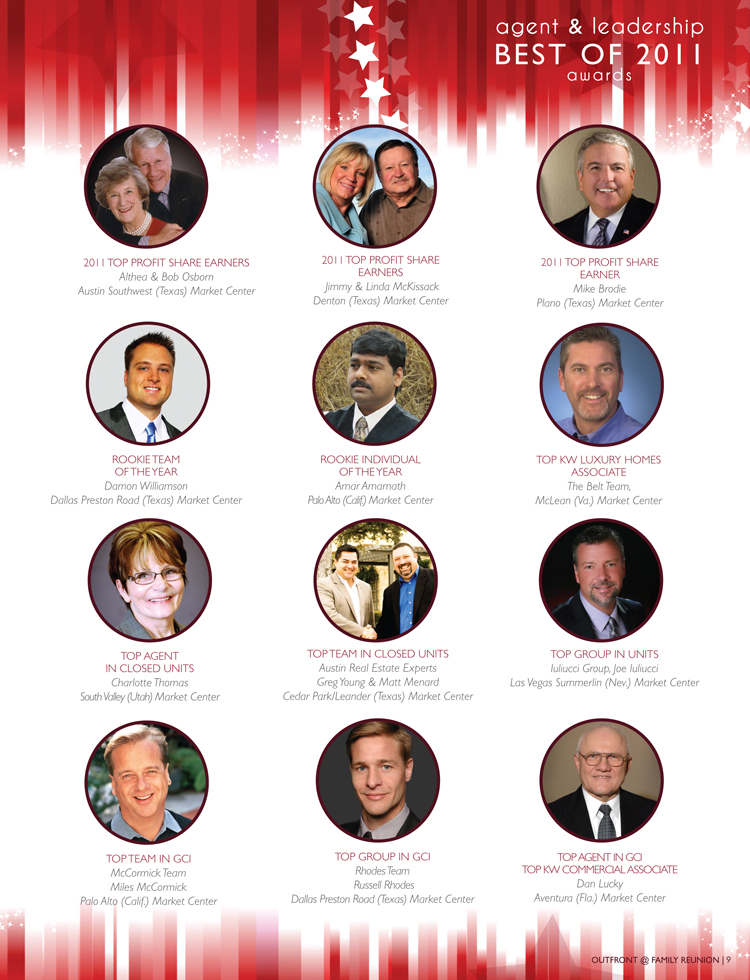 Top associate growth partner award
Brent Mitchell, Austin Southwest (Texas) Market Center
2011 top profit share earners
Althea & Bob Osborn, Austin Southwest (Texas) Market Center
2011 top profit share earners
Jimmy and Linda McKissack, Denton (Texas) Market Center
2011 top profit share earner
Mike Brodie, Plano (Texas) Market Center
Entrepreneur Award
Dottie Bowe, Operating Principal & Leanne Barschdorf Nichols, team leader of the Portland (Maine) Market Center
Rookie individual of the year
Amar Amarnath, Palo Alto (Calif.) Market Center
Mo Anderson award of excellence
Gene Arant, Lake Travis (Texas ) Market Center
Top agent in closed units
Charlotte Thomas, South Valley (Utah) Market Center
Top team in closed units (2 person)
Austin Real Estate Experts
Greg Young & Matt Menard, Cedar Park/Leander (Texas) Market Center
Top group in units
Iuliucci Group
Joe Iuliucci, Las Vegas Summerlin (Nev.) Market Center
Top agent in GCI & Top KW Commercial associate
Dan Lucky, Aventura (Fla.) Market Center
Top team in GCI
McCormick Team
Miles McCormick, Palo Alto (Calif.) Market Center
Top Group in GCI
Rhodes Team
Russell Rhodes, Dallas Preston Road (Texas) Market Center
Top KW Luxury Homes associate
The Belt Team, McLean (Va.) Market Center
No. 1 market center in profit share
Roseville (Calif.) Market Center
Patrick Woods
No. 1 market center in production (2 people)
KW Ottawa Realty, Brokerage
Chantal Smith and Sunny Daljit
No. 1 market center in units (2 people)
Austin Southwest (Texas) Market Center
Diane Johnson and Melanie Kennemann
Top Luxury Homes by Keller Williams region
Texas South Region
Wendi Harrelson, Regional Director
Top KW Commercial growth region
Southeast Region
Cheryl Sadoti, Regional Director