By Brenda Marshall, Keller Williams University Course Writer, Keller Williams Realty International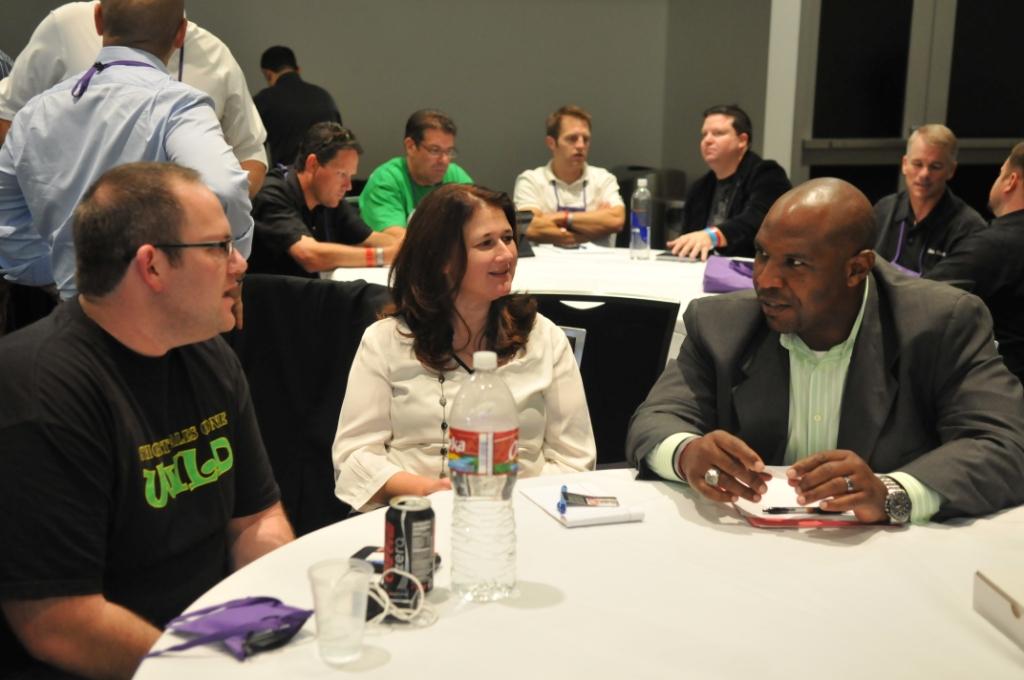 In real estate, it's all too easy to be a victim of the glass ceiling of achievement. You see success happening by agents around you and you wonder, "What systems and strategies are they using? Why are they meeting their income goals and what do I need to do to get there." At Keller Williams Realty, we believe in helping agents understand how to breakthrough plateaus and move to the next level of achievement through group masterminding sessions made up of 5-6 successful people with interests, ambitions, and passions.
Led by Tony DiCello, Director of KW MAPS Coaching, the Mastermind session at Family Reunion gave agents the opportunity to share their biggest challenges and offer advice to other attendees. DiCello kicked off the afternoon asking those who were masterminding on a regular basis to share their biggest "AHA's" so far. Among them:
Write down your income goal. Then double it. It works!
In order to break through your personal ceiling, you have to become self aware. This gives you integrity. Change your own personal responses to your team.
Write down the number of listings you want this year. Knowing that it generally takes 12 hours of prospecting to generate 1 listing, are you spending enough time prospecting?
Take a lesson from Chris Gardner, whose fierce determination pushed him to make 200 cold calls a day … on a rotary phone! His and his sons' lives, literally, depended on it.
Following their AHA's, DiCello shared a personal story with the group:
For seven years in a row, he closed 100 contracts that originated from his database of 1,100 names. He communicated with his database 30-35 times each year, including two mailings and one phone call to each contact once a month. At an average of 100 closings a year and $5,000 per closing, he received about $500,000 in annual commissions each year, totaling approximately $3,500,000 over seven years.
What does his story prove? Your business is predictable and "duplicatable" when you touch your Met database with a 33-Touch. Fortunately today, a touch program is easier and less expensive through email, newsletters, or online video touch options.
DiCello then asked group,
"What do you have to do to ensure your 33 Touch is carried out yearly, on schedule?" More than one agent said they host client parties several times a year.
5. One asks her Allied Resources—mortgage brokers or attorneys, for example—to contribute towards the cost of 3 out of 5 events each year.
6. Another agent recommended turning the party in a community event by asking for canned food donations as a cover charge. Send out six touches per party—five invitations/reminders before the event and one thank-you touch afterwards which includes pictures and announces the date of the next event.
DiCello closed with a challenge to agents: "I want you to answer some serious questions about your business, and to start your own mastermind groups among your teams and in your market centers."
What three things do you need to start doing to double your income by Mega Camp?
What do you know you absolutely have to say "no" to in your business to blow the doors off the first half of 2012?
How can you spend more time outside your comfort zone and start getting comfortable with being uncomfortable?
Do you mastermind regularly? How has it helped your business grow? If you don't now, when will you start?