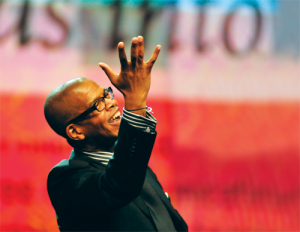 "Never underestimate the transformative power of a ball," Kevin Carroll asserted during this morning's keynote address.
The founder of Kevin Carroll Katalyst LLC, and a renowned author, speaker and agent for social change, Carroll captivated attendees with his compelling life story that began with a "dysfunctional, nomadic childhood" and abandonment by two drug-abusing parents. Salvation bounced into Carroll's life at the age of 6, when he found a red rubber ball in an abandoned lot. After playing alone for a few hours, he heard "the words that changed my life: 'You want to play with us?'"
Carroll says he's been chasing his "Red Rubber Ball" ever since and encouraged attendees to do the same. Carroll challenged attendees, "What's your red rubber ball? What gets you so excited every day that you can't wait to start chasing it?"