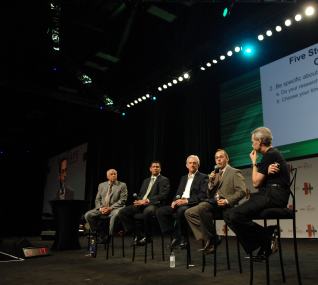 By Brenda Marshall, Keller Williams Realty International
With all of the tech tools out there for generating leads, it's refreshing to know that old school is still cool. Gary Keller and Tony DiCello, director of KW MAPS Coaching, led a panel about lead generation systems and approaches. The panelists—KW associates Chris Suarez and Richard Stone, and Greg Harrelson with The Harrelson Group—all enjoy phenomenal business with simple, inexpensive techniques for filling their business pipelines. Collectively, their systems represent the trifecta of lead generation.
1. Open Houses—Chris Suarez is an open house master. When he was new to the Portland area, he used open houses to immediately add people to his database and immediately got into production. His team closed $23.2 million in volume his first year in Portland. Chris' steps to successful open houses are: hold homes open every day, be specific about your farm, advertise, capture leads, and follow up with each one. Chris, a BOLD Achiever, also attests that without BOLD, he may not have had the commitment to follow his own system so consistently. BOLD helped him realize that while real estate is tough, it's simple.
2. Farming—Richard Stone's disciplined approach to farming is largely MREA-based. Much of his day is scripted, and he's implemented his own set of 9 rules to ensure he stays on script, the first of which is to lead generate 4 hours a day. Richard holds himself accountable by devising his own bonus plan. He pays himself a cash bonus each time he completes all 9 rules, and fines himself when he doesn't. With $30.5 million closed volume last year, Richard might be onto something!
3. Expireds and FSBOs—Greg Harrelson got his start in real estate prospecting part-time for his father's business. He worked his way up to expired and FSBOs—sellers with more challenging objections—and his skill set expanded at the same time. Today, expired and FSBOs are the foundation of his business, yielding in $117 million in closed volume last year. His approach to calling these wary sellers begins with having the right mindset—these sellers need help, Greg can help them, and he needs to give them the opportunity to be helped. Greg believes that the best way to handle objections is to eliminate them, and he finds that he is able to do this within the first ten or so seconds of a call. When calling expireds, his script leads the seller to agree that their last agent failed to sell their home, that they still want to sell their home, and that they need a second opinion. Frequently, Greg has an appointment after asking just a few simple questions. When calling FSBOs, Greg's objective is only to allow the seller to let him in the door to preview the home for no more than 15 minutes so that he can find the right buyer. Often, the seller will start asking questions, realize the value that Greg can provide, which naturally opens the door for Greg to ask for—and get—the appointment.
Tony DiCello concluded the panel by pointing out that these three agents embody the heart of the business—they're what business is all about.