Real estate careers worth having are those that last. That is why the most successful real estate teams focus on retention as well as recruiting.
Keller Williams Realty defines retention as the practice of exceeding associate expectations and leading them to lifelong Keller Williams loyalty.
"Recruiting and retention are two sides of the same coin," President John Davis said.
Once leaders recruit agents to their team, it is critical they have a retention system in place to ensure the new agent has the tools they need to succeed. "When we help people succeed, we succeed," Mary Tennant said. To better help people on your team succeed, it is important to know the three questions they constantly ask themselves to test the validity of their leader:
Does my leader care about me?
Can I trust my leader?
Can my leader help me?
By having the systems and models in place to keep agents first, they can confidently answer these questions and the likelihood of their success and retention is higher. However, even with retention processes in place, there are times when agents may feel their needs are not being met and decide to leave the team.
Let's take a look at the most common reason agents cite for leaving and the actions we can take to retain them.
Agent Issue: Cost Concerns
The number one reason people report leaving their team is due to cost concerns. However, costs can't be avoided, so what can you do to retain them?
With every business, there is a monthly operating cost requirement that cannot be avoided. Often, the actual dollar amount is not why agents leave real estate teams. The issue is a deeper concern. "Cost concern is a lack of production," Jim Fischetti of Havre de Grace, Md., said. When agents are producing, they have a steady flow of commission income and the minimal monthly fee is not an issue. When producing agents cite cost concerns as their reason for leaving, it is likely that the real problem is that they do not see the value associated with the cost. In either case, you can help them.
Leader Action: Show Value

"Expenses are finite, revenue is infinite," Fischetti said. "It is never a cost issue. In the absence of value, cost is always the objection." Fischetti points out that this applies at all levels from the agent-client relationship to the agent-market center relationship. In either scenario, there must be value associated with the expense.
When Fischetti has an associate come to him with cost concerns, his first step is to find out if the concern is cost or value-based. If the concern is cost-based he talks with them and asks the following questions:
1. What can we do to help you increase your revenue?
2. How many listings do you currently have?
3. How many do you need?
Taking those answers into consideration, he encouragingly states, "I can help you figure this out and costs won't be an issue."
When cost is really not the issue, look toward communicating the value of their investment.
In a recent Retention: Growth Through Value course taught by Wendi Harrelson at KWRI in Austin, Texas, attendees constructed a wall of value. Harrelson encouraged attendees to go home and build a wall of value in their market center. When people recognize value and they express it in writing, they are reminded of it daily.
Have you built a wall of value in your market center?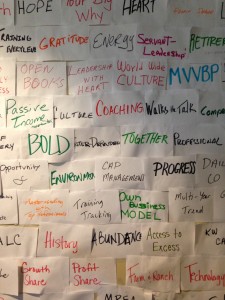 Share your pictures with us on social media.