According to Freddie Mac, the national average for a 30-year fixed rate mortgage rose from 3.98 percent to 4.05 percent in July. Although there was a slight increase, rates remain at historic lows. While there is no crystal ball to tell when the Federal Reserve will raise interest rates, experts believe it is inevitable.
Mortgage rates are affected by Federal Reserve policy, bond and Treasury investments, mortgage-backed securities, the housing market and the current U.S. economic climate. For a look at these factors in more detail, review our earlier Market Aha post on mortgage rates.
The aha – There is Opportunity in Every Market!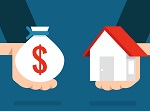 Mortgage rates change daily, so understanding trends is just as important as knowing the current rates. With rates remaining low, it is expected that more people will apply for a mortgage loan over the short term. Low mortgage rates combined with an increase in first-time home buyers seems to be setting the stage for a very productive summer selling season.
Additionally, with mortgage rates remaining low, many home buyers are able to afford to purchase homes in a slightly higher price point.
While a lot of what agents experience with buyers and sellers is dependent upon the market of the moment, advances in technology and the subsequent availability of information to consumers has led to new challenges for agents. Here are three opportunities with buyers.
Calculating Mortgages
When working with clients to determine affordability of a home they want to purchase, it is a good idea to discuss other factors that contribute to a buyers total monthly payments, such as insurance and taxes. Your KW Mobile App has a built-in mortgage calculator that can help you help your client. Your clients simply enter the sale price, down payment percentage, mortgage length and interest rate. The result will be an estimated monthly payment. Keep in mind this does not take into account insurance and taxes. Although this calculator gives a good starting estimate, clients should speak to their lender for a complete monthly payment.