By Danny Thompson, director of Keller Williams Publishing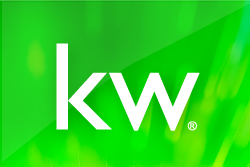 Some said being "green" was a fad that would pass, just like bell-bottoms and MySpace. We all witnessed organizations jump on the bandwagon and proclaim green-ness, attempting to leverage the opportunity for profits. Due to some "green-washing" (the term adopted for those who exaggerated their commitment to environmental conservatism) businesses that were truly committed to making a difference were not taken seriously. Personally, I believe the tide has turned, and our sensitivities to our environment have simply become a way of life. At Keller Williams Realty we do not have a green department because our values are green.
I remember hearing the phrase, "God, family, then business" for the first time as Mega Camp 2001. Gary Keller, in stating the Keller Williams values, articulated in four words something I had wrestled with for years: how to balance my faith with my work. These values have helped me stay focused on what matters most.
I believe the call to a healthy, money-smart, and sustainable living in Green Your Home, our second addition to the Keller Williams Realty Guide series, is in perfect alignment with "God, family, then business." You need only read the book to see what I mean. Let's look at the three green priorities of the GYH model in light of these values.
Sustainable Living: While the term "sustainable" is broad, this model focuses on activities to conserve the precious resource we need every day to live—water. As the population of the developed world grows, providing clean water to every person is an ever-increasing problem. Conservation through rainwater collection systems and native landscaping are just a couple of the water-wise techniques provided in Green Your Home. Awareness of sustainable activities is an act of good stewardship (caring for the things given by God). Ceasing activities that are not sustainable is simply the right things to do.
Healthy living: Being green means to look at the inside of your home, where your family lives, and make sure you are breathing healthy air. Reducing pollutants by choosing more healthy products in the home, such as cleaning supplies and low-VOC paint, is just the beginning to a healthy inside zone. And something s simple as proper ventilation can make a huge difference in allergens and airborne pollutants. Green Your Home has simple and effective techniques to keep your family healthy.
Money-Smart Living: We analyze the value of homes every day in the real estate business. When we become more aware of the systems, energy-saving projects, and techniques considered green, we can save a great deal of green—money. Not only do we increase our profits by lowering expenses, but we can also pass on to our clients these ideas and values, and encourage them to live healthier, money-smart lives. That is just good business.
The values of KW Red: God, family, then business. The essence of Green: healthy, money-smart, and sustainable living. It seems natural to me that my passion for Keller Williams Realty translates easily into living green. Red is Green! I am learning how to have a healthier life at home, how to be smarter and more energy efficient, and how to live in a more sustainable, consistent manner. And I am challenged to take this knowledge and pass it on.
So, read the new Keller Williams Realty Guide, Green Your Home, and think about what you can do to make a difference in your community. I think you will be surprised how simple it is to be green, especially when you are already KW Red!