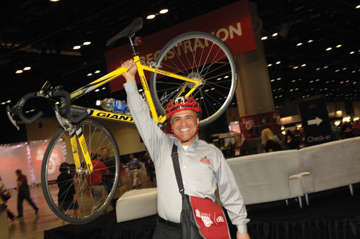 In October 2011, Lowensky Garcia, associate with the New York - Jackson Heights market center, set out on a bike tour. His destination? Orlando, Fla. for Family Reunion 2012. His goal? Raise money for KW Cares. Along the way Garcia was welcomed with open arms by market centers in the Carolina's, Atalanta, Georgia and finally, Florida! Chris Abazis, team leader, describes Garcia as a man with a "charitable spirit" - which he made known at each and every stop.
On Friday, Feb. 11 Garcia arrived to the Orlando County Convention Center riding his bike proudly. As for his red helmet, well, it could be spotted in and around the convention center and in breakout sessions! Congratulations Lowensky - Keller Williams Realty is so proud!
Follow Lowensky's trip from New York to Florida on Facebook and donate to his cause on behalf of KW Cares!