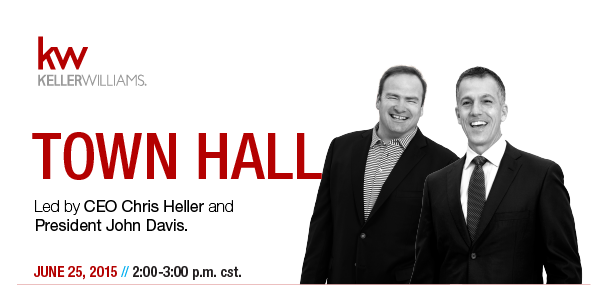 Keller Williams is excited to announce that CEO Chris Heller and President John Davis will co-host the first-ever KW Town Hall meeting.
They invite all KW associates to join them for an interactive celebration of our achievements as we accelerate our momentum worldwide. The event will be live-streaming in Keller Williams market centers. All KW associates are encouraged to attend the Town Hall viewing party at their market center.
The Keller Williams culture of sharing is one of the many tools which help our associates continue to increase revenue and productivity. Town Hall is one more tool we are adding to the agent toolbox. We are proud to provide our associates the opportunity to ask questions and learn together. Don't miss it! And be sure to participate.
Our live KW Town Hall will take place on Thursday, June 25 from 2:00-3:00 p.m. CST.
KW Associates will play the most important role in the conversation. Associate questions can be submitted now via Twitter, using the hashtag #KWTownhall. KW will also be monitoring their Twitter during the KW Town Hall to answer live questions.
Interested associates should contact their team leader for further details on the KW Town Hall viewing party at their market center.
[Tweet "I can't wait for the @KWRI Town Hall viewing party at my market center. See you there! #KWTownhall"]